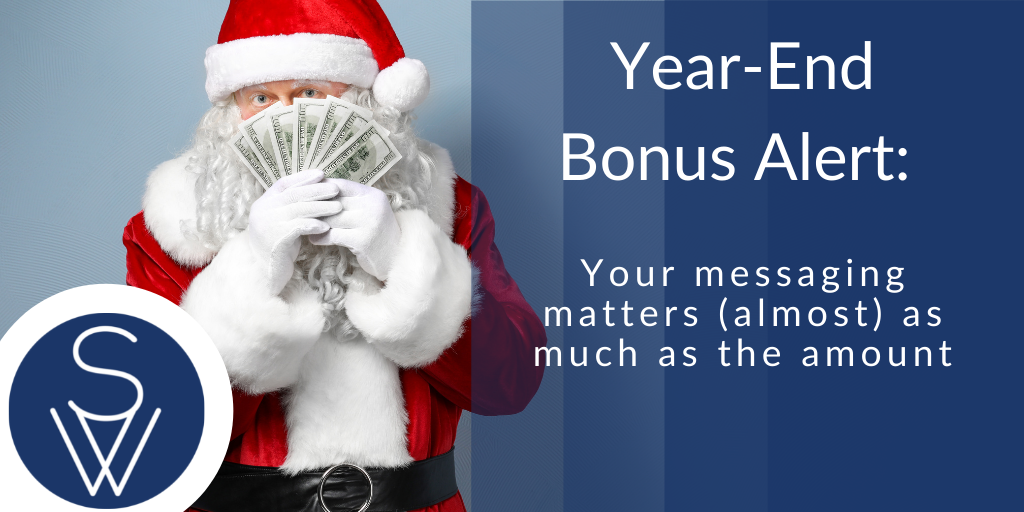 According to a recent survey by Magnify Money, half of all full-time workers are expecting a year-end bonus this year. That, just on its own, is a compelling statistic. But as we near the end of an incredibly busy, often unpredictable year of executive recruiting in the Twin Cities, I'd like to offer a few observations – and words of caution – to employers, starting with this:
Whether your employees are expecting any kind of monetary bump at the end of this year, I can just about guarantee that what you say about 2021 year-end bonuses will have a greater impact on your 2022 employee retention than how much you give (even if you give nothing at all).
I say this because, for the past eighteen months, my profession has given me an up-close perspective on the dynamics of the "Great Resignation." It has also given me a ringside seat to how professionals really perceive – and react to – the "YE bonus" notes they receive from their bosses, especially after a year like this one. The covid rollercoaster makes most of us enter the holiday season more reflectively, more aware of our own values, and yes, more emotional than ever. The messages you send your employees right now are among the most powerful you will ever deliver.
With that said, as you finalize decisions about end of year bonuses and how to communicate about them, consider these additional tips:
Know your budget and honor it
Yes, if you're like most employers these days, you're competing for talent and will likely continue to face intense competition in a tight labor market well into next year. You will be well served to build on goodwill and feelings of loyalty during the holidays, especially among high-performing, highly sought-after talent.
That said, if you've had a rough year and budgets are tight, bonus decisions should reflect that. They shouldn't put the company at greater risk. Remember the many layers of actual cost when figuring out what you can afford to spend. These include:
Your employer share of FICA tax costs, which are pegged to the compensation amount:

2 % for Social Security tax

45 % for regular Medicare tax
The time and added effort of tax withholding and reporting for all bonus recipients.
Talk about it.
If you have awarded year-end bonuses any time within the past 3 years, that doesn't mean you have to give one this year… but you do need to say something about it. Covid's toll on Minneapolis-St. Paul businesses have taken many different forms. For some, it's been rough, revenue-wise. For others, there are new uncertainties on the 2022 horizon. But for some, this has been a year of unprecedented growth and bounty. Whatever your reasons for your bonus decisions – and no matter how much you might wish you could just "give nothing, say nothing" and move on – your employees need to hear from you if you're deviating from past years' practice. Your best investment is in the heartfelt wording you choose and the thoughtfulness you invest in small tokens of appreciation.
Make bonus decisions that convey fair-mindedness and optimism
Fairness doesn't require that every employee get the same gift. But it does demand that you decide – and can articulate – what is fair. Typical methods of determining bonuses include tying the amount to each individual's performance, or to their tenure with the company. I've also seen employee bonuses based on their department's successes. But you may find that the easiest way to ensure maximum happiness and minimal disappointment is simply awarding the same portion of current compensation to every employee (e.g. two weeks' salary).
Communicate with transparency, gratitude, and optimism about the future
Work with your marketing, communications, and HR specialists to craft a year-end message of thankfulness that highlights a few specific efforts or outcomes that you appreciate, keeping the focus on the team's work and attitudes. Employees will appreciate an acknowledgment that a tough year made bonuses smaller (or impossible). But be sure you carefully link that to a strong, authentic expression of optimism about next year. Your employees want to work where they have reason to believe that the job and the team will still exist – and be even better – next year.
No matter how you feel – or what your numbers tell you – about your 2021 year-end bonus decisions, your messaging will become a deeply embedded part of your employees' holiday season experience, creating intensely personal reflections on how they feel about their job and how valued they feel by you, their employer. It's not too late to structure year-end communications that deliver the most positive messaging and impact.
If you would like to talk about this or any other recruiting or retention challenges, please reach out. I would love to speak with you!
More From The SkyWater Blog