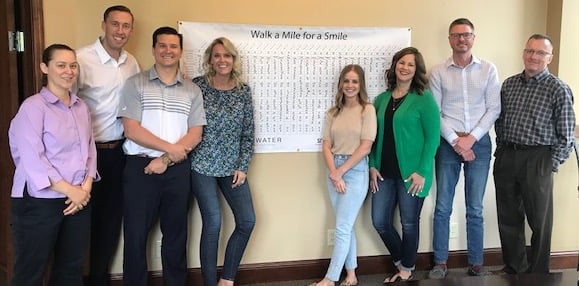 Photo: 2019 Renaissance Walker Winners
Walking For A Cause
One of our favorite traditions continued this spring as our entire company participated in the "Walk a Mile for a Smile" program. Our goal is to raise awareness for the great work done by Smile Network International while getting some exercise and chatting with co-workers all at the same time. Smile Network International is a Minnesota based non-profit, humanitarian organization offering life changing reconstructive surgery and healthcare services to deprived and impoverished children in developing countries.
Between April 15 - May 24, every time one of our employees walks the beautiful trail behind the Carlson towers that circles around the lake (approximately one mile), we will donate $1 to Smile Network International. To sweeten the deal, any SkyWater employee who walks every day and walks at least once with every person in the company will earn the title of "renaissance walker," and receive a free SkyWater sweatshirt.
This year, due to the growth of our team, and the enthusiasm of earning the renaissance walker title, we had a record number of laps completed (705), and a record number of walkers who will receive a sweatshirt (15)! More importantly, SkyWater is donating $1,500 to Smile Network International, which will help pay for 3 children's surgeries.
More Than Corporate Responsibility
For us, giving back is more than simply corporate responsibility, and for me this program has an added personal dimension. In 2017 I had the opportunity to visit Peru and spend some time volunteering with Smile Network International. The families who bring their children to undergo this simple cleft palate/lip surgery have truly amazing stories. I was forever changed after my volunteer experience.
Promoting A Healthy Workplace
Our fundraiser takes place during a time of year where trees are waking up from their long winter nap. This is our way to remind the team that we encourage everyone to get away from their desk during the day and enjoy a casual chat with a colleague in the fresh air. I hope the spirit of the Walk A Mile For A Smile program lasts far beyond our fundraiser period ends.
More From The SkyWater Blog