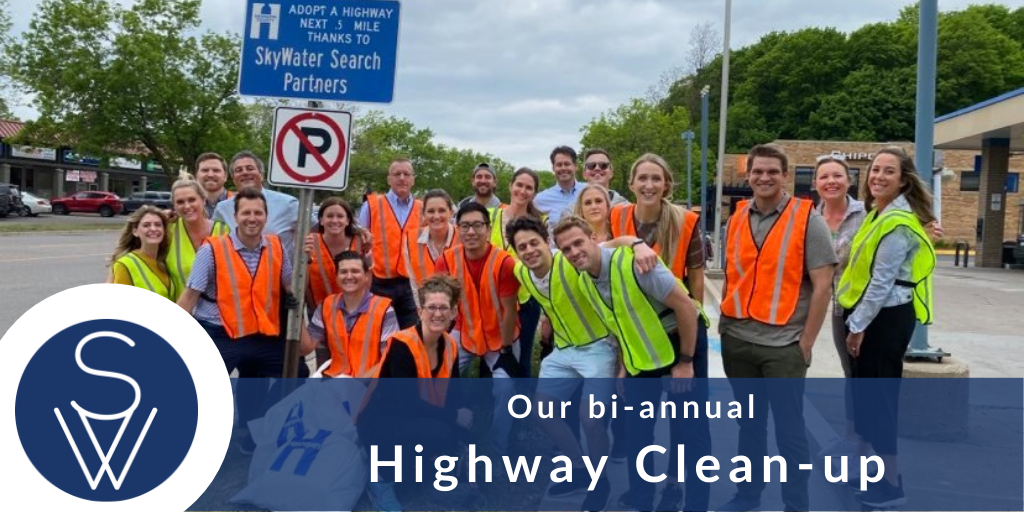 Each year we carve some time out of our busy schedules to take care of a stretch of highway in our community that we have adopted through the MN Department of Transportation's Adopt a Highway program. If you've been looking for ways your company can make a contribution to a cleaner environment, this is a great program to look into.
Benefits of Volunteering
Keeps roadsides beautiful and free of litter
Great Public service project for groups & team building
Shows that Minnesota companies care about their state
Saves taxpayers money
Is another way to get out from behind the desk and stay active
Our Adopted Highway
We've adopted our particular stretch of highway since 2017. It is located on County Road 101 (Wayzata Blvd) between Gleason Lake Rd and Central Ave. If you're familiar with the west metro area, you may think of this spot as the pretty little area outlining the Big Woods Preserve with a quaint mall with shops and restaurants at its corner. The history of the area is more interesting than what first meets the eye.
The Big Woods Preserve is 14 acres and one of the last metro remnants of a hardwood forest which once covered all of central Minnesota and the east coast. The forest is filled with sugar maple and basswood trees. In the spring, native wildflowers cover the ground.
Long before the Minnesota Territory opened for settlement in the 1850s, Dakota Mdewakanton Native American Tribes lived in the eastern part of MN. The Dakota were known for their hunting, fishing, and harvesting of wild rice on Lake Minnetonka. Some historian accounts tell us that the tribes did their best to keep Lake Minnetonka a secret from incoming fur trappers, however in the late 1700s there is evidence that fur trade began, and that furs were delivered down the Minnehaha Creek to St. Anthony.
In 1851, the treaty of Traverse des Sioux lead to the resettlement of Dakota Sioux and Mdewakanton tribes to a reservation on the Minnesota River. By 1854, the construction of the road we know today as Wayzata Blvd began.
---
| | |
| --- | --- |
| *Section of an 1858 official survey map of the new "Shakopee to Dayton Rd," known today as Wayzata Blvd. | *Fur trapper's cabin found near today's 324 Bushaway address, dated late 1700s. |
We're Hiring!
We have fun together at SkyWater, whether we are connecting employers with talent, or cleaning up garbage in our community. Would you like to join us? We're hiring!
---
Historical sources:
*History of Bushaway Road and its Neighborhood, 1858 - 2009, (umn.edu)
More From The SkyWater Blog