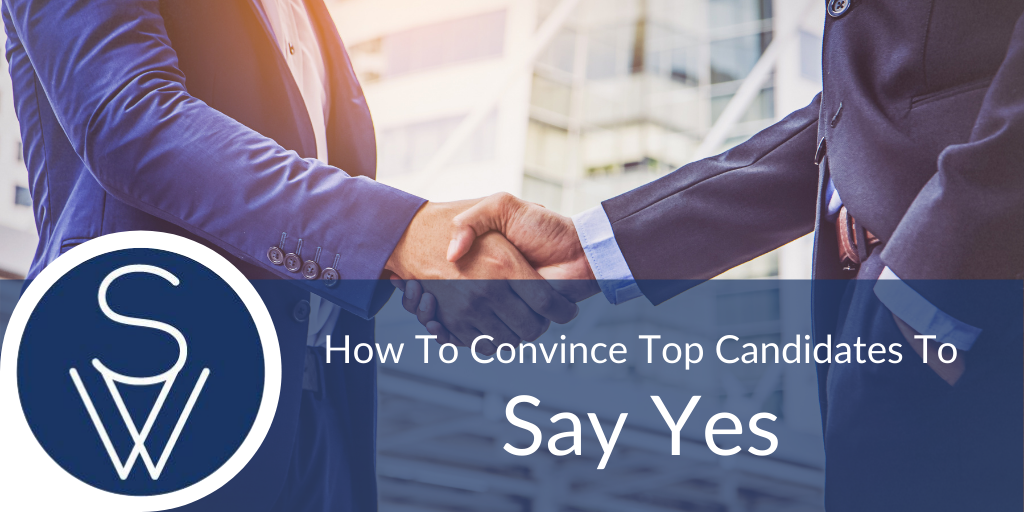 What happens when your number one job candidate turns down your best offer? Here's what happens: you're suddenly breaking all speed records to reach back out to Finalists Two and Three (and maybe Four). But if they were so great, they may no longer be available. And if they're no longer interested, you're starting all over again, re-working your network for the same job. The repeat calls, emails, postings, conversations and negotiations cost you time, money and credibility.
Every recruiter has been there at some point in their career. The key is to not end up there too often. What separates a professional recruiter from a hiring manager? Two words: sales and marketing.
Sure, it's our job to find, attract and place the most qualified candidates available. But what that really means is that we're in one of the most competitive – and rewarding – sales and marketing jobs in the world. Great recruiters build a track record of success with multiple clients across multiple industries by mastering the influencing skills and closing techniques of the world's top sales and marketing professionals.
So, what exactly do top recruiters do that you could start doing today? How can you get your top candidates to say Yes more often?
Understand the Job and your Client
Today's top recruiters never begin a candidate search before trying to gain as much useful information as possible, as quickly as possible on the job, the manager, and the entire organization. If you invest the effort to fully answer the following questions at the onset of your search, they will guide you to the best sales approach to use when you find the right candidate.
The Organization
1. What is your client's stated vision? Can you paraphrase it, boiling it down to appealing, real world terms that would appeal to a strong candidate?
2. How are they currently performing? What is their reputation in the industry?
3. Do you understand the organizational culture? Is it large, traditional, hierarchical? Is it a rapidly growing mid-size business with great numbers but a lot of organizational growing pains? When you spend time inside the organization, can you recognize the work styles and professional values that would help a person thrive there? Can you recognize those that would likely lead to failure?
The Hiring Manager and the Department
1. How does this department promote the vision of the organization?
2. How is this department organized?
3. How experienced is this manager?
4. How fully does this manager understand the role they're trying to fill?
5. How do they define the 30-60-90-day success goals for this new position?
6. How engaged will they be in onboarding the new hire?
7. How could you describe this manager as an asset to a potential new hire? Are they a proven mentor or advocate? Have they helped former employees move up and into greater things?
The Job
1. What are the primary accountabilities for this job?
2. What are the specific, regular duties of this job? (Note that this is different from #1.)
3. How will this person's job performance be measured, coached, and rewarded? How will their initial 30-60-90-day period be measured and coached?
4. Why is the position open?
5. How does this position positively impact the organization?
Relate with your Candidates
Keep in mind, your best candidates will likely be passive. Top talent is sometimes (but rarely) out there, scratching the earth for a new job. When you come across an active job hunter who fits the job perfectly, consider yourself lucky. You might not have to bring your A game to the negotiation table. But when dealing with passive candidates, only a master salesperson can sustain a high close rate. You're trying to convince someone who is already gainfully employed and successful where they are to turn their world upside down and join your client's team. They need to know it will be worth it. And you need to reassure them that it will be. And this is where recruiters and hiring managers often slip up. They put together an offer that looks perfect – from their perspective – without ever factoring in the highest priorities and goals of the candidate.
As you seek out, screen and interview potential talent, be sure you're actually getting to know these people, as people. In addition to learning about their education, skills, experience and problem-solving process, you need to know what motivates them. At the bare minimum, learn the following.
1. What do they love most about their current job? What did they love most about the best job they ever had?
2. What types of team experiences have afforded them the greatest successes?
3. What interested them about the job you're trying to fill?
4. What are their professional goals?
5. What type of organization appeals most to them?
6. Who was their favorite manager? Why?
7. How do they define success for their team? For themselves?
8. What kind of compensation and benefits package are they currently receiving? How satisfied are they with their current compensation?
9. If they had the power to change anything about their current job to make it perfect, what would they change?
Sell the Benefits and Opportunities to the Unique Candidate
Once you've identified your candidate, structure the language and substance of your offer as closely to the candidate's priorities as possible. Using everything you learned about the client organization, the hiring manager and the job itself, develop a 30-60 second "elevator speech" that sells that organization. Link it all to this candidate's goals and needs. If they wanted a more flexible schedule, less travel or more money, beef up the offer in those areas as much as possible. Were they looking for a better title? An in-house training program? Or a manager who was less of a micro manager and more of an advocate? Place your heaviest emphasis on the facts of this offer that satisfy the needs of this candidate. After that, you'll need top tier sales techniques and make this offer shine at negotiation time.
1. Pitch to Candidate Priorities
Avoid cookie-cutter language when offering the position, both verbally and in your cover email or letter. Open with a direct appeal to what you know about the candidate's career aspirations, specific requirements, and how you are confident that your offer will meet and exceed those goals. Tie all features of the offer to the opportunities this job creates for the candidate and the benefits they can enjoy.
2. Negotiate
Once you've made the offer, your response may come in the form of hesitation or multiple questions. Handled well, every pause and every question is an opportunity to strengthen the appeal of this job for this candidate. If you handle them clumsily, you weaken your position. When you're convinced this person is the best fit for the job (and this position is a great opportunity for them), you must stay in close communication. Return calls and emails promptly. Provide honest, clear answers to every question. And check in when there are lapses in communication.
3. Overcome Objections
If you get a flat-out No, you have one remaining opportunity to save the deal (and to build your own skill set for next time). Ask them to share their reasons, in as much detail as they're willing to share. If they tell you they like the company but need something additional in the offer, consider their demand. Can the client meet it? If not, can you negotiate something else that might appeal to this candidate's priorities?
4. Know When to Walk Away
Even the best recruiters, even the greatest sales people on earth will have some deals fall through. And if a candidate slips away after you've pitched your best, communicated flawlessly, and negotiated with strength, then it's time to call it. Don't cross the line between promoting and pressuring. And never sound like you're delivering ultimatums. It's never worth it. You run the risk of damaging your reputation in the talent pool. (You don't want people avoiding your calls.) And you don't want to place a less-than-enthusiastic new hire with your client anyway. Don't burn any bridges. They're talent worth pursuing. End the negotiations by asking them what type of position would interest them more in the future. Keep the notes. Use them as appropriate. And move on.
Are you looking for help finding the best talent for your organization? Let us help.
More From The SkyWater Blog