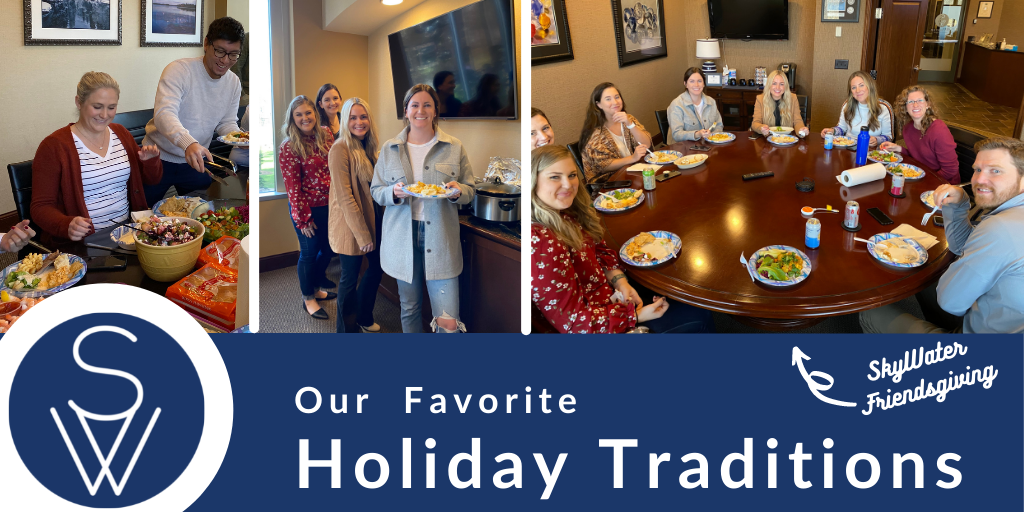 This time of year is full of nostalgia and tradition. No two families are the same, which keeps holiday stories interesting. Today, we would like to celebrate the uniqueness of how each of us holds space for family and tradition each holiday season. Here are stories of holiday traditions, some sweet and some spicy, from the unique families of SkyWater.
Random Act of Kindness
Andrea, Group Director, Human Resources
Every Christmas Eve we go out to breakfast as a family and pick another family to buy breakfast for (as a secret surprise). This tradition has been going on for over 12 years. When my husband and I first started dating, a daughter and her dad secretly bought our breakfast and we've been keeping up the tradition ever since.
Family Craft Time
Beth, Digital Marketing Manager
This tradition started after my brothers and I were finished with college and full-grown adults, which I feel makes it funnier. Each holiday since having adult children, my mom has decided to find some craft on Pinterest that she thinks would be fun for us to try at "family craft time." My brothers and I intentionally sabotage the craft. Once, we loosely​ followed plans for cute snow fairy napkin holders and instead made insane-looking monsters. She actually uses the insane monster napkin holders when she sets her holiday table with her fancy dishes each year. Mom plays along and intentionally chooses a craft she knows is going to go terribly. It's our sideways family craft time each holiday. Really looking forward to screwing up a vegetable tray supposedly shaped like a turkey this Thanksgiving.
15th Century Norway
Yanna, Associate, Human Resources
For as long as I can remember, my Norwegian family has always had a Christmas tradition. It is unknown where it originated, but it can be traced back to 15th century Norway. Every year on Christmas Eve, my "farmor" (father's mother), makes "riskrem" (a rice pudding dessert porridge) and hides one whole almond inside. After dinner, we each get a slice and whoever has the piece with the almond inside wins a prize. This can be anything from getting to be the first person to open a present that night, or a "marsipangris", which is marzipan shaped into a pig (known as the Christmas pig). Every year my "farfar" (father's father) has won and we were all convinced he would cheat and watch where farmor hid the almond.
| | |
| --- | --- |
| Riskrem with raspberry sauce | Marsipangris – the Christmas marzipan pig |
| | |
"Climber," The Jewish Rodent
Allie, Senior Associate, Human Resources
I grew up in a mixed-faith household, as my dad was Jewish and my mom was raised Catholic so I was the lucky kid who got to celebrate both Christmas and Hanukkah! We ate dinner together, lit the menorah, and watched the candles burn down each night to little stubs. We gathered with relatives around a Christmas tree, set out milk and cookies for Santa, and woke up early Christmas morning to run downstairs to see all the presents Santa brought for my cousins and me. My parents did their absolute best to teach us the meaning and significance of both holidays but let's be honest, I was just in it for the food, family time, and presents.

I got 1 present for each night of Hanukkah, which resulted in 8 presents by the beginning of December making all my friends at school "wish they were half Jewish also". My favorite Christmas present of all time was a live hamster who I named "Climber" and to this day, I still don't fully understand why my parents allowed me to have a pet rodent in the house.
The More The Merrier (Who Are You Again?)
Zac, Group Director, Information Technology
It's a tradition in my family to get together with extended families for thanksgiving and the holidays… my mom is 1 of 7 siblings, and my dad is 1 of 6 – which creates 43 first cousins…. Fast forward 30 years… even Thanksgiving with one side of the family is over 60 people including spouses/+1s and children… it's getting to a point where I don't know the names of the +1s and children. Very fortunate to have a huge family, largely located in the Twin Cities and still willing to get together for holidays when life continues to get in the way.
Decorating With Family
Lindsay, Senior Group Director, Accounting & Finance
Since I was a kid (like 4 or 5 years old), my family has gone to Rum River Tree Farm the day after Thanksgiving to chop down a tree. The tradition has continued with my little ones, so we'll be heading up to Oak Grove, MN on Friday to chop down a tree. We then spend the rest of the weekend decorating for Christmas – putting lights up on the roof, blowing up reindeer for the front yard, baking cookies, etc. It's something that warms my heart every year.
Good Luck Never Smelled So Good
Josh, Senior Group Director, Accounting & Finance
One of our traditions is "Hide the Pickle". It's a pickle ornament that we hide in the tree and the story is that it originated in Germany and the person who finds the pickle will get a special blessing of "good luck" in the coming year.
Got No Rhythm. Who Could Ask For Anything More?
Zac, Group Director, Information Technology
At the ugly sweater holiday party, right here at Skywater, we used to have one of our colleagues rap about a number of people at the company and it was absolutely hilarious. He had no rhythm or rhyme… I am officially nominating Corey Thonn to pick up that tradition.
More From The SkyWater Blog