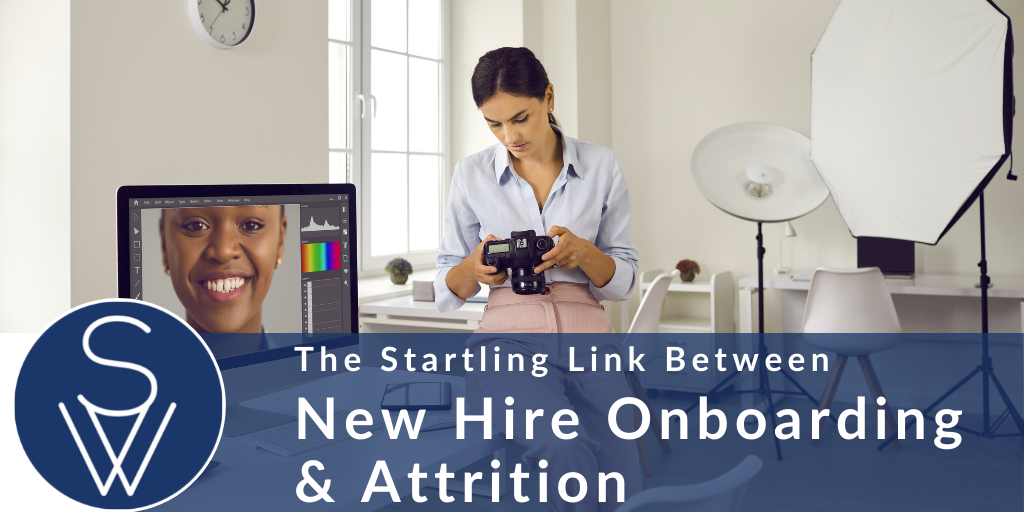 If you're like most employers, you might be underinvesting in this critical hiring and retention tactic.
According to a 2021 Gallup article, 70% of employees who would rate their new employee onboarding experience as "exceptional" also say they are in "the best possible job." Yet, according to that same article, nearly 20% of employees say their recent onboarding experience was either poor or nonexistent. What do these statistics tell us? At a macro level, it seems obvious: employer onboarding practices are almost universally abysmal. But at the individual employer level, they point to a real opportunity. In this age of employee attrition, labor shortages, and general uncertainty about future staffing stability, these numbers suggest that there is a reason for optimism for any organization that is willing to invest in robust, multi-level onboarding practices.
According to a recent study by the Harvard Business Review (HBR), effective onboarding practices should occur consistently throughout the new hire's entire first year of employment and fall into three distinct "dimensional" categories:
Organizational

Technical

Social
The HBR article is excellent and well worth a read. Here, I'd like to share a few very practical ideas that fit clearly within those categories. These recommendations are based on our own practices here at SkyWater Search Partners and those of our clients who can also boast impressive retention.
Enlist your whole team
While a hiring decision may be made by a handful of individuals, the responsibility for onboarding the new hire must be shared by the entire organization. That requires a shared understanding that welcoming and helping new team members is a requirement of every employee's job. Buy-in and support for new hires come easiest with early, repeated, and consistent communication from senior leadership, the hiring manager, and HR. At a minimum, send an email to the entire team as soon as the candidate accepts the offer. The note should be conversational, enthusiastic about the staff addition, and include a few details about the new hire's experience, skills, and enthusiasm about joining the organization. But it should also include a recap of your expectations of each member of the team in the onboarding process. These might include the following:
Require attendance at the new employee welcome gathering. Whether it's bagels and coffee in the conference room or a zoom call, faces should be visible, attitudes should be upbeat, and the hiring manager should not only come with prepared remarks but should prepare a few seasoned employees to share their own welcoming comments.
Create a quick "welcome to the team" video to send out immediately. At SkyWater, we create quick, extremely informal video hellos in which team members introduce themselves and greet the new hire by their first name. We pull these super-short clips into a montage and send it to our newest employee. You may not be surprised to know that new hires often tell us how much these videos meant to them as they dealt with new job jitters. But these videos also serve a deeper purpose for us. They're a powerful reminder to everyone here that each of us carries responsibility for new team members succeeding and feeling welcome.
Delegate onboarding tasks as broadly as possible, without overwhelming current staff. At SkyWater, we look for all opportunities to engage many team members in onboarding. While technical training and support remain within the purview of technical specialists, we encourage peer coaching and buddy systems to help new hires get comfortable with "how we approach things around here."
Encourage openness to new ideas from the new hire. Yes, we want to help our newest team members learn the ropes. But it's equally important that we welcome their insights. That's how an organization grows. It's also how an organization proves to its employees that their perspectives are valued.
Finally, pay careful attention to how the new hire is acclimating socially. Loneliness in the new environment is a common reality for new hires. It's also a common reason for new hires to quit. Great employers with solid retention numbers know who their best "welcomers" will be and they enlist their help.
Tie onboarding activities to employer brand
Consistent messaging is mission-critical when bringing new employees into your organization. This may sound simple but it takes careful forethought and effort. Here are ways to strengthen the connection between your team, your new hire, your clients, and your community.
Weave your brand values and organizational mission statement into all written communications, including your initial job posting, interview questions, welcome materials, and training.

Welcome your new hire on your website and in your blog.

Create press releases for all leadership hires that tie their qualifications to your brand's mission.

Invest in professional headshot photography.

If you are a relationship-driven organization, your "Team" page should reflect that. Team member photos allow potential customers to associate names with faces. At SkyWater, each new hire has a studio session with Jonathan Conklin, a local photographer who specializes in professional portraits. Not only will you benefit from professionals' superior skills, studio, cameras, and lighting. A professional photographer who knows how to engage subjects and takes the time to "get" your organization's vision will produce team portraits that celebrate your brand while allowing each individual's unique character to shine through.
If you would like to know more about how SkyWater Search Partners can help you attract, recruit, and successfully onboard the right candidates, please reach out. We would love to talk!
More From The SkyWater Blog