6 Elements of a Perfect New Employee Announcement
If you're hiring, here's something you already know: you're competing with other top employers for a handful of superior candidates.
But if you're not currently hiring, here's something you may not have considered: you're still competing. Every day. And the competition is fierce. All of your employees, from new hires to old-timers want to feel welcome, engaged, challenged, successful, and appreciated. Every day. If they don't, greener pastures are just a recruiter's email away.
Lately, I've noticed something. We often talk about how "Candidate Experience" affects a person's decision to join one employer vs another. And I can barely open my laptop without seeing something about the importance of Employee Experience. But what about that brief gap of time when your "new hire" is no longer a "candidate" but not yet an "employee?" How's their experience? During that emotionally intense two weeks – or longer – between job acceptance and start date, your new hire is going through understandable nervousness and second-guessing.
All too often, that's where the done deal comes undone. While you're busy getting the employee ID number arranged and ordering the welcome donuts, you forget to stay in touch. And when you go silent, other voices – from negative reviews on glassdoor.com to offers from other employers fill that void. Don't go silent! Keep your employer brand (and your own, unique management voice and message) top of mind with a series of relevant, engaging and warmly welcoming communications. Three critical communications pieces that are frequently forgotten (or handled so poorly that forgetting them may have actually been better) are: The "New Hire Announcement" Email, The "Welcome to the Team" Email, The "What to Expect During Your First Week" Email.
One very important thing to notice about these is that yes, they are three separate emails, sent on different days. Again, you want to keep the positive messages flowing, starting with your new hire announcement. But it all starts with your announcement.
Why is the announcement so important?
While it may seem like just one more piece of bureaucratic drudgery with no clear purpose or benefit, stop and think about that for a minute. When you fail to announce a new hire, you're pretty much saying, when you see a new face at MaryLou's old desk, that'll be her replacement.
Believe me, nobody feels good about meeting the new hire that way.
While you may not have solicited everyone's input or vote on your hiring decision, you still owe them a heads-up on the person who will soon be joining them and why they should have confidence in your decision. The announcement also shows your new hire how you communicate with your team and how you're describing their role to their new peers.
But a truly well-written new hire announcement does more than that. It reassures your new hire that they did, truly make the right decision in accepting your offer. It offers them proof of several things:
You are so thrilled that they're joining your organization that you took the time to note some of their qualifications in a welcome letter,

You really are a warm, welcoming, motivating manager who treats everyone on the team with respect,

You're committed to the manager-employee relationship,

This is real.

You offered.

They accepted.

They start on Monday.
That's a lot to pack into one email, especially when you're so busy that the very idea of writing one more thing fills you with dread. But it doesn't have to be difficult. I've captured the key elements of a great new hire announcement here. Follow these steps and you'll get the new hire's experience started on the right foot.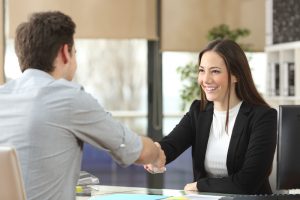 The Salutation:
Required:
Warm and engaging language

Nothing stuffy
Keep in mind, this is supposed to be a highly personalized note that helps launch strong, positive working relationships. If you start with an opener like, "To Whom it May Concern" or "To: Electrical Engineering Department," you have already undermined your own message. Instead, keep it friendly. A simple, centered headline is sometimes better than "Dear Team."
Example:
Some Great News to Share with the Marketing Team!
Opening Paragraph:
Required:
Name

New Job Title

Start Date

Upbeat comment on what you know they'll bring to the team
Example:
After meeting with many highly qualified candidates, I am extremely happy to announce that Alexandra Jones has accepted our offer and will be joining the marketing department as a Digital Marketing Manager. Her first day is Monday, August 15. I know how important this position is to the success of our department and how eager you've been to see this position filled. We're very impressed by the depth of experience – and passion for our business – that Alexandra brings to our team.
Qualifications Paragraph 1:
Required:
Summary of 1 or 2 Previous Work Experiences

Statement of how those experiences are relevant and valuable to the department
Example:
Most recently, Alexandra has been the digital marketing specialist for Acme Tools in Cleveland, where she played a pivotal role in the rollout of their new consumer direct campaign. Before that, she was the lead graphic designer for Inhome Toolbox, where co-led a large rebranding the team. Her keen insights on our industry's challenges and opportunities will be an enormous asset as we launch our new consumer campaigns.
Qualifications Paragraph 2:
Required:
Summary of Educational Experience and Relevant Certifications

If possible, statement of they are assets
Example:
Alexandra earned her BA in journalism from the University of Minnesota, where she completed internships with J. Wright Advertising and Core3 Marketing Group. She says her experiences with each of those organizations inspired her enthusiasm for new campaign development.
Personal Introduction Paragraph (Optional)
Volunteer or Other Activities or Hobbies

A message or quote from the new hire
Example:
When she's not coming up with cool new ideas for a campaign, Alexandra enjoys golfing with friends and volunteering with her local animal rescue group. She also wants everyone here to know that she's excited to meet you on August 15th.
Invitation to a Welcome Event:
Required:
Date, Time and Place of an Informal Welcome

Encourage all to attend
Example:
To welcome Alexandra and give everyone a chance to say hello, we're hosting a sandwich buffet lunch in Conference Room C at 11:30 on August 15th. Please use Signup Genius to let us know if you'll be there.
There it is. 6 easy paragraphs. Sign it. Send it. And follow it up with a welcome email. (More on that in a future post.)
More From The SkyWater Blog