Have You Checked Your Own Perceptions of "Military Skills" Lately?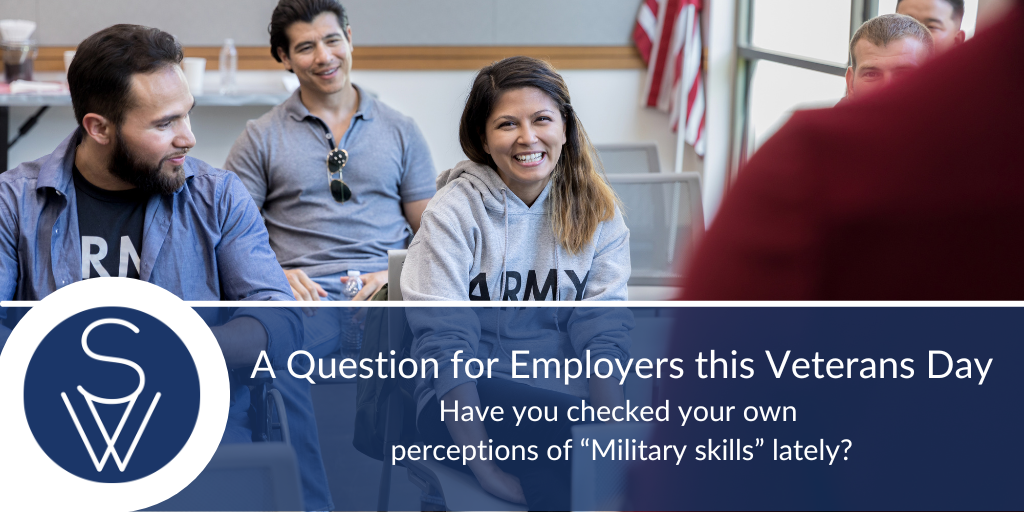 In a recent report for CBS News, Norah O'Donnell and Olivia Rinaldi highlighted an issue that has confounded me for years: the underemployment of our nation's military veterans. Even as employers struggle to attract and hire talent, these extraordinarily qualified individuals continue to be overlooked.
For years, the military, veteran organizations, and multiple large employers have invested in veteran employment programming. These are important and helpful programs.
So why are we still so bad at this?
Researchers at Duke University have uncovered one reason: while everyone has been focusing on helping veterans prepare for job searches, and interviews, and adapt from military to civilian work, little attention has been paid to helping employers adapt. Turns out, many of us have some deeply held, unconscious biases and perceptions of veterans and military work.
During Duke's experiments (that included 3,000 hiring managers, recruiters, and people with no hiring experience), when military veteran candidates and non-military candidates were presented as equally qualified, the veterans were consistently perceived as having lower leadership competence, emotional intelligence, creativity, and interpersonal skills than their non-military counterparts.
It's a paradox. We hail these people as heroes. Yet we perceive them as "belonging" in a rigid workplace that is based on order taking, narrow roles, and excessive formality – and not in our own fast-paced, innovative business environments. Here's what's important about that: it's inaccurate. And it's harmful, not just to the veterans we're leaving behind but to our own teams who would benefit from their contributions.
Our veterans come to us with resumes that are rich with the experiences, skills, and education we need. All it takes from us is a closer look through the right lens. This Veterans Day, the best way to thank our veterans is to make a commitment to hiring more of them.
At SkyWater Search Partners, we specialize in finding the right talent for the right position. We know how to look beyond words on a resume to understand talent, motivation, and career aspirations. If you would like to learn more about how we can help you, please reach out. We would love to talk!
More From The SkyWater Blog