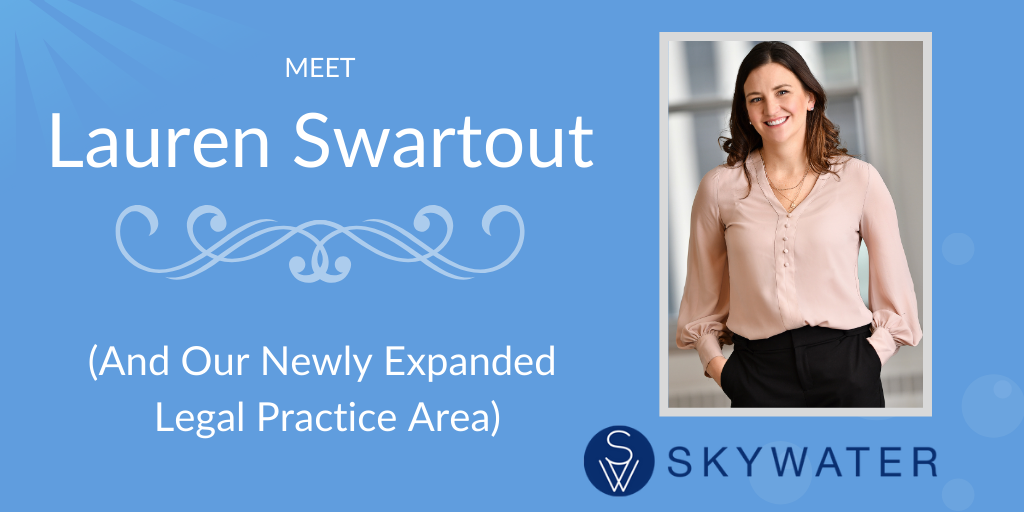 In the eight years since SkyWater Search Partners first opened our doors, we have partnered with law firms and corporate legal departments to match highly talented attorneys with exceptional career opportunities throughout the Twin Cities and Upper Midwest. In response to growing client demand, we recently made a strategic decision to expand our legal practice and bring in a leader with the experience and insights to oversee that growth.
We're very happy to announce that we have found that person in Lauren Swartout.
As an attorney and legal recruiter, Lauren has established deep relationships within the legal community throughout the Twin Cities and beyond. Most recently, she was a senior associate with Heidrick & Struggles' Minneapolis office and prior to that, she handled attorney recruiting efforts throughout the country as the Director of Attorney Recruiting with J Phillips Legal Search. She got her start as a legal recruiter at Parker and Lynch, where she placed attorneys across a broad range of practice areas, including mergers and acquisitions, corporate and securities, banking and finance, intellectual property, real estate, healthcare, labor and employment, tax, commercial litigation, bankruptcy, and trusts and estates. Prior to that, she was an associate attorney with O'Meara, Leer, Wagner & Kohl, P.A.
Lauren, who enjoyed her time practicing law, says she is very much a people person who loves working in the legal profession and is especially energized by helping great lawyers find their ideal jobs. "I'm so happy that I discovered this wonderful way to use my JD," she says. "I think that, having worked inside a law firm and worked within both large and small agency settings has given me a well-rounded perspective that serves my clients incredibly well."
One of the things she's most excited about is working with the people at SkyWater. "People here really enjoy their work and their coworkers. The culture here is one where people are excited to wake up every day and help match people with great jobs. From our first conversation here, I recognized the same team orientation and values that are so important to me."
Lauren says she builds long term, trust-based relationships with both clients and candidates. The key, for her, is in taking the time to ask good questions, listen deeply to how people answer, and taking the time to truly understand their needs and the bigger motivations driving their decision making. "I need to understand what it will take for both client and candidate to thrive and above all else, I believe in being really personable, honest, transparent and super communicative. I'm in constant communication, so everyone always knows what's going on and they're reassured that they're always on my radar."
Welcome, Lauren! We're excited to have you here.
If you would like to learn more about how SkyWater can help you build your legal team, reach out to Lauren Swartout on LinkedIn. She would love to connect!
More From The SkyWater Blog