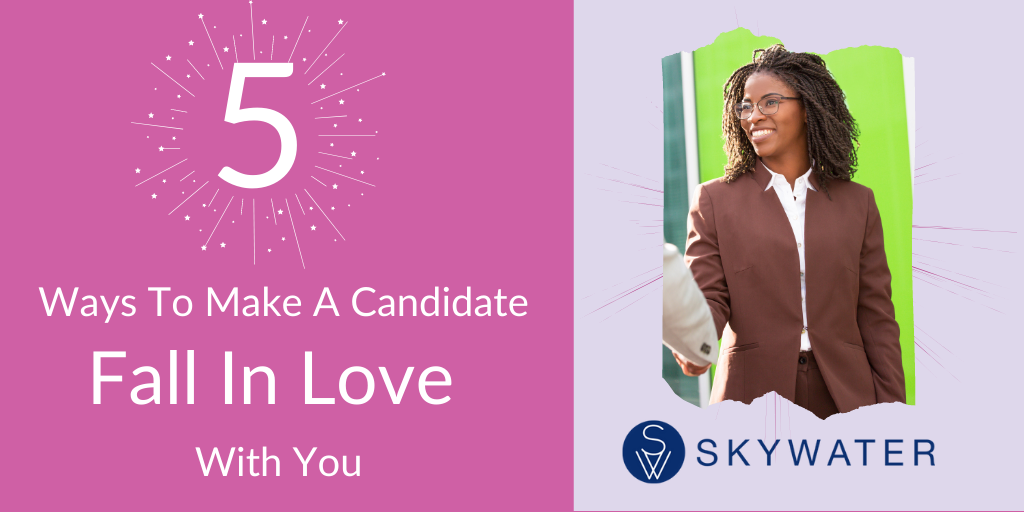 Recruiting is a lot like dating and, like so many relationships, it's complicated. In today's super competitive labor market, every successful hire depends on your ability to find that right person, then woo them, get to know them, turn cartwheels to impress them, and simultaneously pluck up the courage to share the truth about your own shortcomings. And that's before you try to make it official...
Welcome to the CandiDATING Game
It's brutal out there but here are 5 things you can do to increase your chances of finding your perfect match.
1. Look in the Right Places
Let's face it, your dream candidate might not even know you exist. How are you ever going to hire them if you can't make a connection? As matchmakers of the employment industry, executive recruiters spend our entire careers developing relationships across multiple talent pools, industries, and influencer networks. We make it all faster, easier, and more successful. But even if you're not working with a recruiter, you can do better than simply posting your job on your own website or blasting it out one of the mega sites. Reach out to everyone you know – not just in your industry – but also among talented people in related professions. Somebody knows somebody who might just be perfect. Ask for referrals and personal introductions and be ready to make a great first impression once you do.
2. Keep it Real and Realistic
Yes, you have a dream candidate in mind. (Or you should.) But you're not living – or hiring – in a fantasy world. You're here, among mortals. And a successful match is one where you're capable of recognizing solid potential and the presence of the must-haves – without getting hung up on every little imperfection. Great hiring managers have a keen and accurate eye for potential and they're willing to invest in the person who brings enough skill and experience, along with core competencies and the potential to grow in the job.
3. Impress, But Don't Mislead
If the courtship is nothing but a series of big promises and perfect appearances, the marriage is doomed. Disenchantment doesn't just lead to disappointment; it breeds bitterness. Credible, talented candidates want the truth about your organization's vision, values, and prospects, your department and your own management style, and a realistic representation of the role they'll be taking. Of course you should present all of the positives in their most positive light. But don't exaggerate your greatness or gloss over the challenges. If you do, your new hire will be secretly (and frantically) searching for a new job before you've finished onboarding them. Let finalists meet their future colleagues. Consider inviting them to spend a day or an afternoon shadowing the incumbent or relevant team members. Or share project and process information that clearly depict what a day-in-the-life (or a year-in-the-life) will look and feel like. Do you risk losing some great candidates if you do this? Yes. But if the truth leads them to say they're just not that into you, thank them and move on. It was never going to work.
4. Search Them Online (and Know You're Being Searched)
You'll get the resume, cover letter, application and interview responses that the candidate provides. They'll get your job posting and interview responses. But that's just the tip of the iceberg. From there, the real fact finding begins. Today, growing numbers of hiring managers and recruiters are stretching well past the old boundaries of background and reference checks. They're hopping online in search of candidates' social networking pages, gathering a more complete picture of that individual. Today's savvy candidates are doing exactly the same thing. They're looking you up on Glassdoor.com, Yelp and other sites. If they find negative comments from your employees (current or past), you'll have some explaining to do. Before you even post a new position, conduct a thorough online investigation of your own organization and address what you find.
5. No Ghosting!
For starters, it's never been okay to leave a candidate hanging for days, weeks, even months on end with no meaningful decisions or updates. But today, in addition to the obvious breach of the golden rule, that kind of disregard will damage your reputation. Delays, dismissive emails, and multiple interview reschedules are briskly and powerfully punished by today's candidates. By the time, you deign to invite that great candidates back for the fifth interview, they've already accepted an offer elsewhere – and they've posted a detailed description of their experience online.
Are you looking for the right candidate, but coming up short? Get in touch with us. We love connecting people.
---
More From The SkyWater Blog