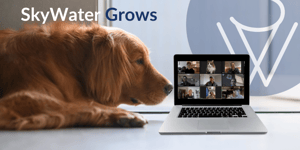 When Customer Loyalty Is Priority #1, Bring In The Best
April 1, 2020
SkyWater Search Partners is pleased to announce the hiring of Jellybean to lead their newly expanded Customer Loyalty placement practice area.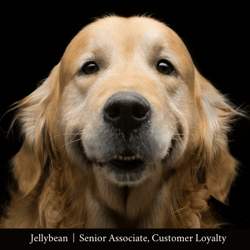 In Q1 of 2020, SkyWater Search Partners the #1 ranked executive search firm in Minnesota, showed several signs of growth; first, announcing the addition of McKaela Baldus to lead their Marketing and Communications practice area, and then in announcing the addition of Andrea Anderson to lead their Human Resources practice area. It looks as if Q2 is no different for SkyWater, as today they announced the addition of Jellybean, a very good boy, to lead a new practice area for SkyWater: Customer Loyalty.
Prior to SkyWater, Jellybean served 8 years as a guide dog for the visually impaired. Jellybean has a proven track record of using his vision to guide others to their goals.
"Visionary leaders, committed to the success of their clients, are exactly the kind of leaders who will be successful at SkyWater. We knew we wanted to bring on an individual who our clients could trust saying 'Here's where we want to go. Show us the path to get there.' Jellybean hit the target through his rigorous interview process with us. Every time."
- Adam Hoffarber, Partner
Jellybean plans to do more than serve as directional guidance for customers seeking to attract top talent to their customer loyalty divisions.
"Jellybean is a true partner in his approach. He can sniff out a rotten apple hiding in the bunch that could compromise the quality of the entire group. Literally."
- Jack Jackson, former colleague
"Sniff sniff sniff. Pant. Small, gentle lick." - Jellybean
"I think that means he's hungry." -Jack Jackson
About SkyWater Search Partners: SkyWater is the #1 ranked executive search firm in the Twin Cities metro and tri-state area. Practice areas include Accounting & Finance, Information Technology, Engineering, Operations & Supply Chain, Sales, Marketing, Human Resources, Consumer Packaged Goods, and Construction.
---
More From The SkyWater Blog