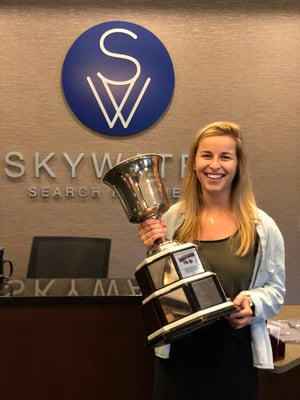 Many of us bring fun trinkets to the office to help us clear our heads or stay focused throughout the work day. Sometimes it's a stress ball, or a fidget spinner...
This week our Associate, Sydney Rossman, brought in the Isobel Cup. Pretty typical right? Every office has basically a Stanley Cup hanging around for a week? No?
Sydney is a Goalie for the Minnesota Whitecaps, a professional hockey team in the National Women's Hockey League. Earlier this year, they won the Isobel Cup Championship. Each member of the team gets to keep the cup for about a week. We are insanely proud of Sydney for this accomplishment. We're big sports fans here at SkyWater of pretty much any sport you can imagine, so as you can guess, we were pretty stoked to have the opportunity to see the cup up close.
It represents women's hockey and how we're trying to grow the game for the next generation!"
- Sydney Rossman
More Than Meets The Eye
To a hiring manager, gazing at the cup might trigger thoughts beyond hockey. We have seen that many qualities found in athletes transfer well to succeeding in our business. We're not the first company to experience this. In recent years, numerous articles have been written about the strengths that athletes bring to their other careers.
Why we love hiring athletes:
While not every athlete is created equal, in general, we have found that when a candidate has a history of participating in organized sports:
They have an ability to motivate themselves and their peers.
They are no strangers to collaboration and teamwork.
They hold themselves accountable for their role on the team.
They see projects through to completion.
Should You Only Hire Athletes?
Of course not. Should you try to only hire talent that is a good fit for your company's core values? Yes. We value a will to win. We are so proud to have such an amazing group of recruiters, each of who have the ability to stay motivated, hold each-other up, work together as a team, hold themselves accountable, and see their projects through to completion.
Congratulations to Sydney and the Minnesota White Caps for winning the Isobel Cup this year. Thanks for letting us gaze at the cup and remind ourselves of the qualities that produce good team-mates and gracious winners.
More From The SkyWater Blog