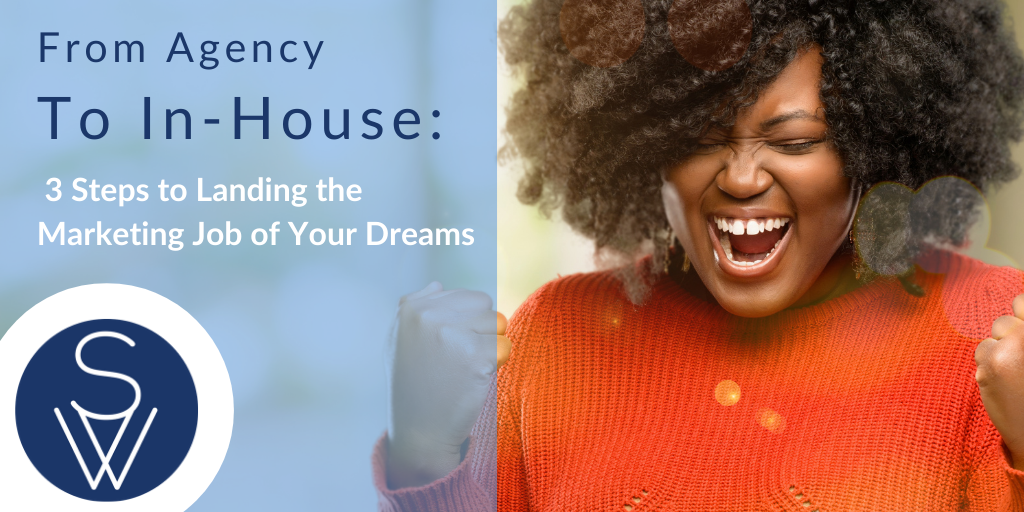 If you're a marketing professional in the Twin Cities, you're well aware of the major industry reshuffling we've all witnessed this past year. It is staggering. In fact, Forrester recently estimated that the pandemic has caused more than 50,000 U.S. marketing and advertising professionals to lose their agency jobs.
While other industry experts and researchers ponder what this all means for the future of the marketplace, here's the question I'd like to help answer here:
What does this mean for you and your future?
If you're one of the many marketing professionals whose agency job is in jeopardy (or has already been eliminated), here's some very good news: many, many CMO's in the Minneapolis-St. Paul area – and throughout the Upper Midwest – are now in the process of building new, in-house marketing departments.
They'd like to talk to you.
But before you blast them your resume, beware a few common pitfalls. Here are three pieces of advice on how to spin your agency experience into in-house gold.
Rebrand Your Agency Experience
Yes, most in-house hiring managers love to see agency experience. But they're looking for that plus something more. They're seeking a candidate who knows how to apply their agency-honed skills and sensibilities within the in-house environment.
Put another way: working in-house is different. The in-house hiring manager is looking for clear signs – in your resume, interviews, online presence, and other communications – that you get the difference and that you're excited to immerse yourself in the goals and vision of one brand and work collaboratively within that brand's team and culture.
Consider this critical difference: In the agency environment, virtually every minute that you spend on any client's work is billed back to that client. As a result, the drive for efficiency dominates almost everything you do because you're accountable to each client – and to your own, internal management – for showing that the investment was worth it. Brands are eager to see an ROI mindset in their marketing departments, but not at the expense of building strong team relationships or supporting brand values and culture.
To land the in-house marketing job, you need to decide whether that's a transition you can make and want to make. You then need to repackage your resume to reflect the following 3 core strengths:
Brand passion

: hiring managers are looking for candidates who bring an authentic affinity for their brand or industry and who are keen to become part of the team that helps that brand grow.

Collaboration

: show that you work best when you're on a team with shared vision and goals and that you're collaboration oriented.

Cross-functional thinking

: make no mistake, in an in-house team, you're constantly having to work within a broad team. Today's CMO's are seeking candidates who bring a holistic understanding of the entire range of marketing roles, from SEO specialist to web developer to paid digital media manager, and everything in between. While you don't need to be able to do everyone's job, you absolutely need to grasp the basics of all of the major roles within the in-house marketing team and you must be able to speak the language.
Work with an Executive Recruiter in the Marketing Niche
This is a period of almost unprecedented upheaval and movement within the marketing disciplines. Going it alone in your job search might work. But right now, many excellent jobs are being created, recruited, and filled quickly and without lengthy public posting times. When you work with an executive recruiter who specializes in the marketing field, that recruiter knows the local employers, understands how they function and how they hire. They're brought into the process early, they search swiftly within their existing, extensive talent networks, and when they find a strong candidate, they're an inside voice, advocating for that candidate.
Expand Your Network and Adapt Your Networking
Bringing your agency experience and skill set into an in-house role isn't a simple, direct transfer. Most of the time, it's a major cultural shift. The best way to understand what it's really like is to talk to others who've done it. Use your existing network to get in contact with others who have worked in both environments, especially those who have made the move from agency to in-house. If you're convinced that making the move is right for you, leverage your newly expanded contacts to connect with hiring managers and garner informational interviews.
At SkyWater Search Partners, we are deeply connected within the in-house marketing and agency network. Right now, I'm working with multiple highly respected employers in the Twin Cities and the Upper Midwest to fill critical marketing roles. To learn more, reach out to me now. I'd love to learn about your career goals and tell you more about these opportunities.
More From The SkyWater Blog