There's a Hidden Talent Market Out There
Here's How to Find, Recruit, and Hire Today's Top Candidates
If you're hiring (or, should I say, trying to hire) you're likely feeling what most managers in the country are feeling right now: the pinch of a 49-year low in unemployment.
Like many hiring managers today, you might feel forced to choose between keeping a key position open longer – or rolling the dice on a less-than-ideal candidate. But both options can wreak havoc on your team. Empty seats represent lost momentum, weakened morale, and diminished opportunity for the entire organization, while a bad hire does all of that – and carries the added risks of termination headaches and costly repeat searches.
The truth is, neither option is necessary.
Superior candidates haven't vanished. A strong talent pool is out there and absolutely recruitable. I call it the Hidden Talent Market and I'm successfully recruiting these superior candidates for my clients.
What is the Hidden Talent Market?
At first glance, these candidates may seem like traditional "passive" candidates. They're employed, successful in their jobs, and confident in their abilities. They're not actively job hunting but, for whatever set of reasons, they're not committed to sticking with their current employer long term, either.
But that's where the similarities end.
To truly understand what sets the Hidden Talent Market apart, it's necessary to recognize how much has changed for job seekers in just the past several years. Until recently, the rules -- and tools -- of the hiring game have heavily favored the employer.
Consider a traditional hiring process:
Employers post job openings (excluding salary and benefit specifics). Candidates "apply," then "compete" for an interview and, ultimately, the job offer. As hiring managers work their way through their decision-making process, applicants are left largely in the dark, often for weeks or even months at a time. Even so, conventional wisdom has discouraged applicants from "bothering" the employer with too many requests for updates. When they do reach out, they're frequently answered by auto reply -- or no reply at all. Conversely, when the employer requests additional information (including credit history, salary history, and performance appraisals from prior managers), candidates know that to "stay in the running," they must provide it, promptly.
Amazingly, this process remained fundamentally unchanged for decades -- regardless of whether we were experiencing an employer-driven market or a candidate-driven one.
But all of that is changing rapidly and, I would argue, irreversibly.
Consider how the employment landscape has shifted, in just the past few years.
Information is Power
These days, thanks to a growing number of AI-enhanced job search sites including LinkedIn, many candidates believe that they need only hop online to quickly identify the jobs and employers whose needs match their skills, goals, and values.
But that's just Step 1.
Armed with their own short list of potential employers, candidates next turn to sites like Glassdoor and Indeed, where they can read -- and express -- opinions, facts, ratings, and detailed anecdotes that illustrate "what it's really like" to work for you or apply for one of your jobs, or even interview with you.
Suddenly, it's the candidate who has access to troves of insider intelligence on nearly everything about you: the effectiveness of your training, the conduct and practices of your managers, the realities of your workplace culture and environment, and the nitty gritty of your rewards, recognition, benefits, and compensation practices
The result? Not surprisingly, today's candidates feel little urgency to make themselves visible to future employers or headhunters. "Why bother updating my resume now? Why waste my time responding to recruiters I've never heard of? When I'm ready to make my move, I'll browse! I'll read ratings and reviews, compare my top choices, and choose the best fit for me. If I like how I'm treated, I'll proceed. If I don't, I'll walk away. Either way, I'll share my unfiltered experience for future candidates to review."
In other words, candidates now perceive "job searching" less like a cattle call and more like an Amazon shopping experience.
If you think this is going to change much when unemployment rates go up, it won't.
It's a new reality, one where highly talented, employed individuals aren't responding positively to the traditional hiring process. They rarely feel compelled to respond to your Inmails, texts or cold calls, apply for your jobs, or even keep their resumes updated.
However, in much the same way they make their other "buying" decisions, here's what they will do:
They will pay attention to the opinions of industry influencers, and
They will engage in a conversation with a trusted member of their professional network.
It's up to us, as employers and recruiters, to adapt to this new hiring terrain. I have.
I'll share my approach with you. But, as you'll quickly see, there is no quick fix, no single, magic database that does the work.
My approach works because I have accumulated the insights, relationships, and reputation that make me a credible influencer. Candidates respond to my emails, texts, and calls because I never treat them like commodities or transactions. That takes skill, focus, and proven matchmaking skills. It also takes time.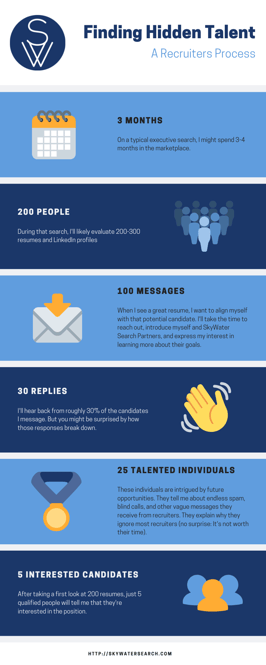 My Process
To fully understand what I mean, take a look these numbers:
3 Months: On a typical executive search, I might spend 3-4 months in the marketplace.
200 People: During that search, I'll likely evaluate 200-300 resumes and LinkedIn profiles.
100 Messages: When I see a great resume, there's no way for me to know if it's up-to-date or if that person is even looking. I don't care. I do know I want to align myself with that potential candidate. Even if they're not a fit for the search that led me to their profile, they'll likely be a great candidate for something else down the road. So I'll take the time to reach out, introduce myself and SkyWater Search Partners, and express my interest in learning more about their goals.
30 Replies: I'll hear back from roughly 30% of the candidates I message. But you might be surprised by how those responses break down.
25 Talented Individuals who are intrigued by future opportunities want to stay in touch with me.
When I speak further with these candidates, they tell me about the endless spam, blind calls, and other vague messages they receive from recruiters. They explain why they ignore most recruiters. (No surprise: it's not worth their time.)
But here's what I get from those 25 replies...
5 Interested, Qualified Candidates: After taking a first look at 200 resumes, just 5 qualified people will tell me they're interested in the position.
Like I said, this is not a quick fix. It's the return on a long-term investment.
This is the way I have been cultivating my professional network for more than two decades. This is the way every recruiter in our firm communicates with candidates.
If this process resonates with you, give me a call. I'd love to learn more about your vision and goals and discuss how SkyWater Search Partners can partner with you.
More From The SkyWater Blog