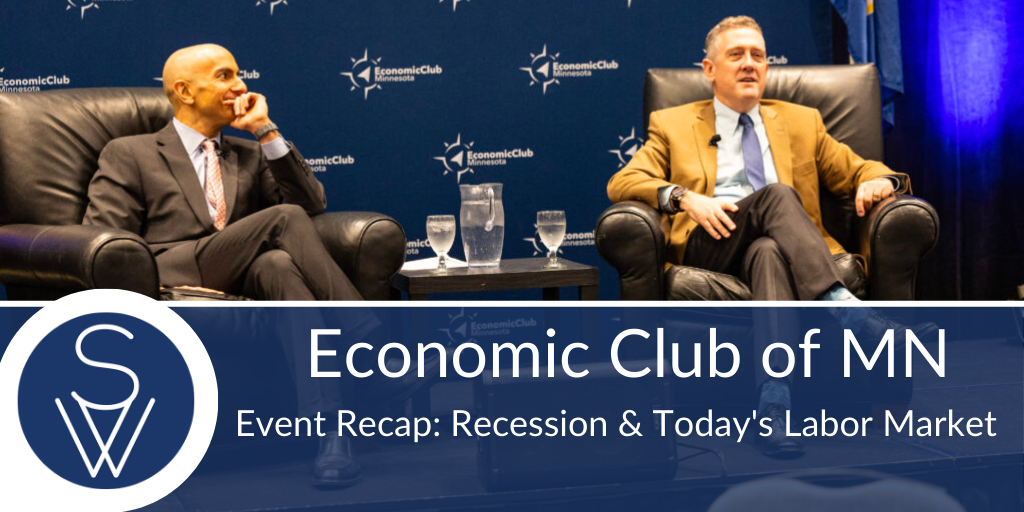 I attended an event at the Economic Club of Minnesota, where both Neel Kashkari (head of the Minneapolis Fed Reserve) and Jim Bullard (head of the St. Louis Fed Reserve) had a really interesting discussion about the Minnesota economy and labor market.
Event Highlights:
"The rumors of the imminent demise of the economy are greatly exaggerated," he said Friday at the Economic Club of Minnesota, where Minneapolis Fed President Neel Kashkari questioned him about interest rates, the economy, and the recent banking turmoil.

Bullard pointed to Friday's stronger-than-expected U.S. jobs report as proof. The unemployment rate, which dropped to 3.4%, is the lowest since 1969. Bullard also noted it was the 12th-consecutive jobs report to exceed Wall Street's expectations.

Instead of a recession, Bullard said, the more likely scenario — or his "base case" — is for slow economic growth along with a somewhat softer labor market and declining inflation. That would qualify as a so-called soft landing, what Fed policymakers have angled for as they've aggressively raised interest rates in the past year or so — putting the economy at greater risk of recession — in order to tame high inflation.
Our Experience With The Current MN Labor Market
Here at SkyWater, we started this year fairly soft compared to Q1, 2022. However, we're seeing an uptick in activity already in the month of May, and the statistics related to the labor market in Minnesota are encouraging. Consider this: April 2023 was the first time there are less than 10M open jobs nationally since COVID began.
However, since inflation also cooled last month to <5%, and the interest rate is >5%, most expect the Fed interest rate hikes to stop soon; they could even be done now (the inversion of inflation to interest rates typically is when they stop raising rates). We're starting to see better signs in terms of the economy in the coming months, barring a shock to the system; i.e. Russia invades Moldova, Congress doesn't raise the debt ceiling, etc. Employers who may have put filling some of their leadership roles on hold could be more motivated now to move forward and ramp up their teams again.

I left the event at the Economic Club of Minnesota feeling quite good about our industry for the next decade+.
More From The SkyWater Blog