7 Ways to Keep Your Employees Safe, Engaged, and Reassured in the Time of Coronavirus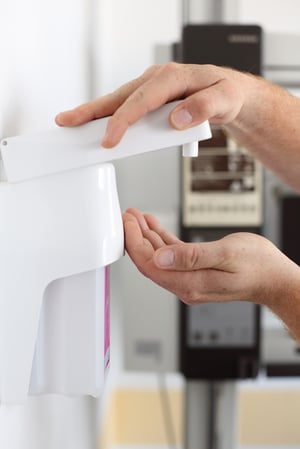 Twin Cities employers have been dealing with an extraordinarily tight labor market for several years now. Attracting – and retaining – top talent was a challenge before the coronavirus (COVID-19) made its way to the United States.
Today, as news of the virus spreads, there are growing concerns about COVID-19 and its potential to interrupt the critical business activities that fuel the Minnesota economy. Fortunately, this is not our first rodeo. Minnesotans have fought flu epidemics in the past and we have every reason to be confident in our ability to handle this virus, too. To help, we've compiled this list of best practices, tips, and common sense reminders for business leaders, hiring managers, employees, and candidates.
1. Communicate: Show Employees and Candidates that You're Aware and You Care
Convey a calm, reassuring, non-dramatic attitude while resisting the urge to shrug off or trivialize people's worries. If you haven't already, craft a brief, company-wide message that reassures employees and candidates that you're informed and prepared to take the right steps at the right times to protect your team. Internal communications should include your workplace guidelines and preventive practices (including everything from Step 2, below), employee travel decisions, even visitor protocols. It should also include a quick promise on how (and how often) you'll keep everyone updated. Be sure to check the CDC and State of Minnesota websites every day for the latest updates. You might also want to check out the new site that University of Minnesota has created especially for employers.
2. Adjust Interviewing and Onboarding Practices
You may not need to postpone or cancel in-person interviews now. But if you're not experienced with virtual interviews, now's the time to get comfortable with them. If you're recruiting candidates from out of state, it gets more complicated. New hires coming to you from unaffected areas, Explore the possibilities of having your new hire start working from home. If it's not, you may Create specific expectations for how interview travel and re-location timing will work.
3. Keep it Clean: Make These Small But Important Workplace Changes Now
Proper hand washing is one of the most powerful ways of preventing many illnesses, including the coronavirus. Keep all sinks well stocked with soap dispensers. Post or distribute reminders of the simple rule we all learned in Kindergarten: wash your hands with soap and warm water for 20 seconds (which is just as long as it takes to sing the A-B-C song). Let's be honest, we should be mindful about hand washing even when there is not a virus epidemic.
Install Sanitation Stations
If it's in the budget, install free-standing or wall-mounted hand sanitizer dispensers in multiple locations, especially at doorways. You could also distribute individual desktop bottles to all employees. Just make sure that all products contain 60% - 90% alcohol.
Disinfect Surfaces Frequently
Make it easy for employees to disinfect desks, laptops, phones, staplers, etc. often by providing disinfecting wipes and encouraging everyone to use them.
Alternatives to Hand Shaking
A smile, a wave, maybe a brief explanation or an elbow bump… These are now the polite ways to greet people, congratulate them, or say good-bye. Even though handshakes might seem

more personable, right now, keeping your distance is the kindest way to let people know,

"I care about your well being."
Be Aware of How Much We Touch Our Own Faces
Did you know that the average person touches their face three or more times an hour? Well, that's what we do. That alone wouldn't be such a problem except that, every hour, we're also – by necessity – touching multiple shared objects (door knobs, printers, etc.). Put it all together and we're inadvertently creating a high-speed traffic route for more than a few illnesses to spread, not just COVID-19. Be mindful of such natural habits and commit to hand washing and wiping down surfaces, or even touching your face less if you can help it.
Cough into Your Elbow or a Tissue, Not Your Hand
Then immediately throw that tissue in the trash, and squire some hand sanitizer into your paws.
4. Ask Sick Employees To Stay Home
That seems like an obvious one. But if your company culture has been one that rewards the warriors who show up no matter how awful they feel, state your new expectations in unequivocal terms. If you need to adjust your PTO or sick leave policies, do so as needed.
5. Prepare for Times When Employees May Need to Work From Home
If you're not familiar with Skype, Zoom, FaceTime, Google Hangouts – or any of the many other video conferencing solutions available today, it's time to get familiar and set guidelines for your team. There may well come a day when you have team members that may have been exposed to the virus but are not sick. These individuals need to have the tools and knowledge – and your support – to work from home. Now is the time to ensure that all team members have the necessary equipment and training to attend meetings via video conference.
At SkyWater, we have a dedicated Zoom Room in our office to accommodate remote meetings. If you've been thinking about choosing a video conferencing platform, now might be the time to check out Zoom.
6. Role Model Care, Calm, Honesty, and Flexibility
These are the attributes you need from your team so inspire them by walking the talk. You can't possibly know everything there is to know about COVID-19, nor can you perfectly predict how things will unfold. But you can commit to staying informed and communicating transparently.
7. Update Your Continuity Plan
Make sure you have an up-to-date plan in place for how you'll keep your business functioning in the event of large-scale illnesses or absences. This will be your team's roadmap, outlining the steps necessary to keep business disruptions minimal. In it, identify the roles that are critical to short-term (and maybe even longer term) operations. Which decision-maker roles are indispensable? What about front line production? If mission-critical incumbents were to be out for an extended period of time, identify who on your staff is capable of providing back-up and make sure they're cross-trained and ready to step in.
---
More From The SkyWater Blog