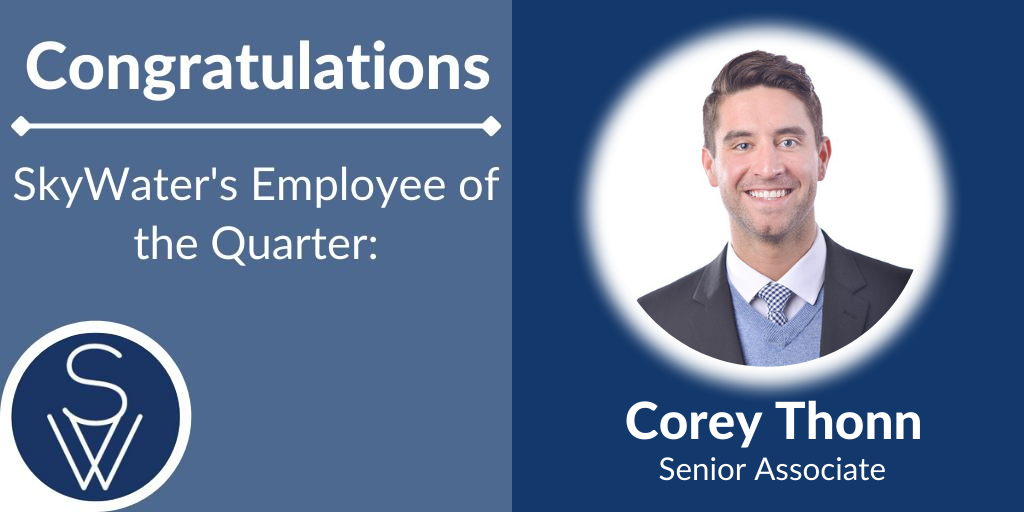 At SkyWater Search Partners, we believe that one of our greatest strengths is our commitment to our community and how actively our team members engage with the many different communities they call their own. Each quarter, we honor a top-performing SkyWater employee with a substantial financial gift, in their name, to a nonprofit community organization that is near and dear to them. This quarter, we are very proud to say...
Congratulations, Corey Thonn, Senior Associate Recruiter, Engineering & Operations!
"I was completely surprised to hear my name, but I'm not surprised at all that SkyWater does this," says Corey. "This program is just one more reminder that I'm exactly where I want to be, with a company that really cares."
Corey has chosen for his gift to go to Kingdom Builders, a faith-based humanitarian aid and missions program created through Corey's church, River Valley Church. Kingdom Builders' 2021 projects (among dozens of others) include "Convoy of Hope," which focuses on providing disaster relief, feeding children in need, training women to start businesses, and helping farmers in developing nations, and International Justice Mission (IJM), which focuses on rescuing and restoring victims of human trafficking and working with law enforcement officials to bring criminals to justice. But Corey also emphasizes that Kingdom Builders creates opportunities for everyone, regardless of their own religious affiliation, to participate in serving members of our own, local communities. "It's all about giving and having a servant's heart, showing humility and putting others' needs before our own," says Corey.
Corey credits his church and Kingdom Builders with helping form his own values and his deep commitment to serving others, guided by unconditional compassion. "The minute I found out I had won, I knew this money needed to go to Kingdom Builders and River Valley Church. They've helped shape me into the man I am today."
More From The SkyWater Blog