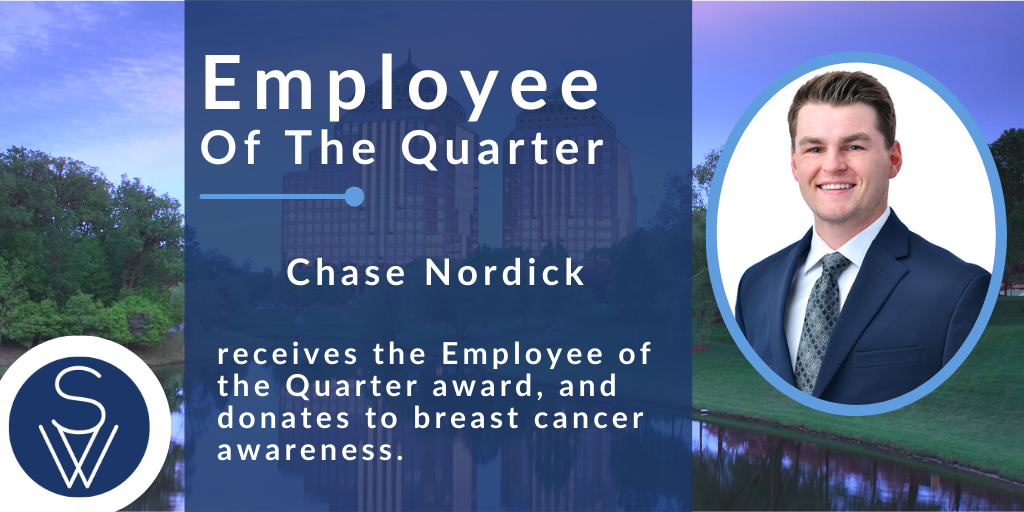 For ten years, SkyWater Search Partners has been dedicated to supporting the communities where we work and live. That core value led to the creation of our Employee of the Quarter award. Each quarter, we honor a top-performing team member with a financial donation, in their name, to a nonprofit organization of their choosing. We are delighted that this quarter's winner chose to highlight the extraordinary work of the Susan G. Komen Foundation.
CONGRATULATIONS, CHASE NORDICK, ASSOCIATE RECRUITER, ENGINEERING & OPERATIONS, SKYWATER SEARCH PARTNERS' EMPLOYEE OF THE QUARTER!
When Chase learned he had won this quarter's award, he thought about the fact that October is Breast Cancer Awareness Month. "I was thinking about the people in my life who have been affected by cancer, especially breast cancer," says Chase. "I wanted to support an organization that's been around a while and is doing so many great things. It seemed like perfect timing to do this during October."
The Susan G. Komen Foundation was founded in 1982, based on a promise Nancy G. Brinker made to her dying sister, Susan, to "do everything in her power to end breast cancer forever." Since then, it has become the world's largest nonprofit source of funding in the fight against breast cancer and the only organization that focuses on breast cancer across multiple fronts, including research, community health, global outreach, and public policy." Today, Susan G. Komen serves people throughout every county in Minnesota and Illinois, providing care and information to more than six thousand people every week.
To Chase, the Employee of the Quarter award reflects one of the biggest reasons he joined SkyWater two years ago. "People here really want what's best for everyone, not just themselves," he says. "I love coming into an office where everyone has that shared vision."
On behalf of everyone at SkyWater, thank you, Chase! We love having you on this team.
If you would like to learn more about how you can join Susan G. Komen in helping eradicate breast cancer, it's easy to get involved. In addition to accepting much-needed financial gifts, they depend on the "time, talents, and efforts of thousands of volunteers," to achieve their mission. Find out more about the many ways you can support Susan G. Komen or volunteer to help with one of their many initiatives.
More From The SkyWater Blog