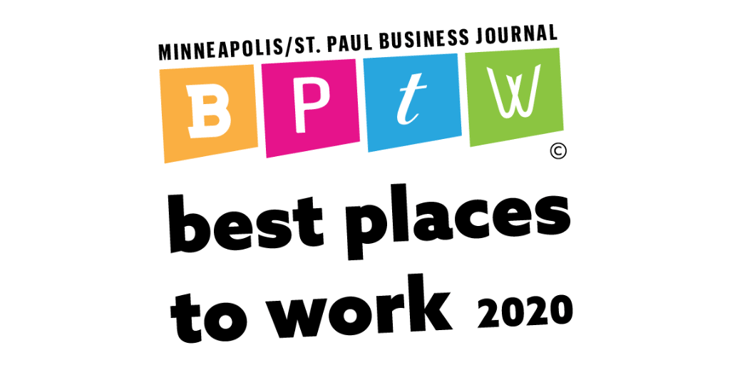 Last week, the Minneapolis/St.Paul Business Journal announced their
2020 Best Place To Work award recipients
, and we were again fortunate enough to win the award! This is the sixth time we have been recognized with this honor, and it's not one we take lightly... especially in these trying times. Here are a few words about what this award means to us.
The MSP Biz Journal Best Place to Work award is the oldest Best Place to Work award in the Twin Cities. Honorees are determined using scores from an online and confidential employee survey. Some example survey statements, of which employees can rank on a scale from strongly agree to strongly disagree include:
I am happy with my job.
Goals are clear to everyone on my team.
I believe this organization will be successful in the future.
My manager cares about my development.
The senior leaders of the organization demonstrate integrity.
Being listed as one of Minneapolis/St.Paul Business Journal's Best Places To Work is more than just an accolade to include in our brand message; this honor is earned through the responses of our employees, and to us that means a great deal.
We do a lot of things that are fun as a company, and have a ton of fun with each other on a daily basis. However, this is a tough business, with lots of ups and downs, and a current economy & business climate that is difficult to navigate. 2020 is an important year in the history of our country, state, city, and company. At SkyWater, we are more mindful than ever of what it takes to continue to be a great place to work today, and in the years to come.

"We haven't been without disagreement among Partners, Managers, and recruiters on a number of issues as it relates to the business over the last year (or 7!). Yet, I like to think that 99% of the time, the fact that any/all of us are able to come to an understanding with each other without creating distrust or animosity shows how much we respect each other's point of view, and how much we care about each other, even if we disagree. That's something special, and something that gets people & businesses through both good times & bad." - Adam Hoffarber, Partner
Thank you to the Minneapolis/St.Paul Business Journal for providing the opportunity for local companies to be recognized for their positive workplace culture. Thank you to the SkyWater recruiting team for helping to recognize our organization as one of the Best Places to Work in Minnesota in 2020. We are truly honored.
---
More From The SkyWater Blog