A New Whitepaper from SkyWater Search Partners:
Finding Talent, 2019 Trends & Predictions
Matching ideal candidates to key positions has never been easy. But after a decade of economic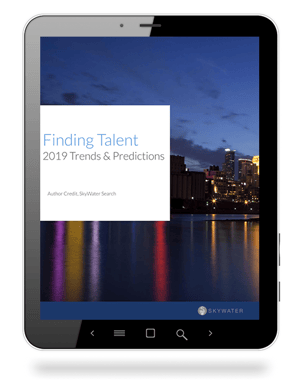 growth and a year of historically low unemployment, it's tougher than ever to recruit, hire, and retain top talent. In the Twin Cities market, where unemployment has hovered between 2.5% and 3%, that's particularly true.
This current reality has led many an employer to wonder out loud, "when will it all get back to normal?"
But here's an inescapable – and often overlooked – truth: hiring isn't "going back" to the way it used to be.
It never will. Too much has changed.
Sure, the pendulum will swing back some day, from "candidate's market" to "employer's market." But not like before. Why? Because other, fundamental factors are dramatically re-shaping the employment landscape.
Here are just a few of the trends and changes we explore in our new white-paper.
New Generations Bring Different Values
Baby boomers have been the dominant generational presence in the American workforce for decades. Now, as they retire in growing numbers, they are being replaced by generations of people for whom the very meanings of work, career, and purpose are distinctly different than that of their predecessors.
As a result, employers must adapt to – and, indeed, embrace – the values, needs, and expectations of today's talent pool.
The AI-Empowered Candidate
Much has been said about how AI and other tech advances have made the hiring process faster, more-data driven, and more trackable for the employer. Yet, the truth is, today's workers and job seekers have been equally (if not more) empowered by rapidly emerging technology. In other words, tech has brought about a new, radically altered power dynamic in the employer-candidate relationship.
In our white-paper, Finding Talent, 2019 Trends and Predictions, the SkyWater Leadership team explores the implications of these and other developments and points to the trends most likely to impact your organization for the foreseeable future.
Check out the Finding Talent white-paper to learn more about these trends and predictions and the adaptations you'll need to consider to compete in today's rapidly evolving labor market.
More From The SkyWater Blog