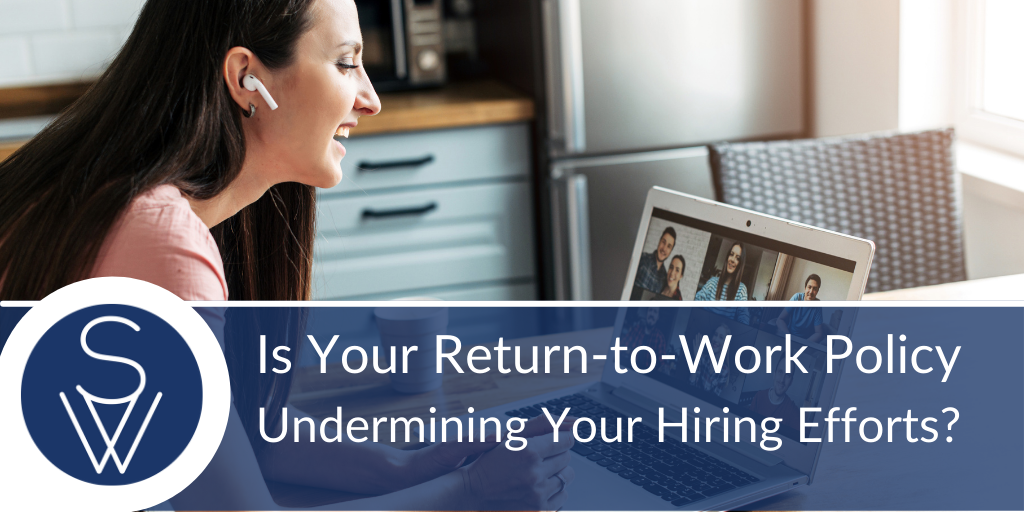 The concept of workplace flexibility is one that is front and center of nearly every client conversation we have at SkyWater. We hear employers describe their worries that dispersed teams will be less able to collaborate, engage, perform, and lead than teams who physically come to work every day. We empathize. At SkyWater, we knew we'd invested mightily in creating a shared work environment that facilitated closer connections and that hard-to-define but so important sense of belonging.
It's a tough mindset to rethink. But we have. And we continue to do so, paying careful attention to how our team members are doing, and what they're telling us. The key has been our own willingness to be flexible, adaptable, and open. It's also been about one additional, critical factor: the willingness of our own executive team to walk the talk. We hold ourselves to the same expectations that we establish for the whole team. Turns out, this may be even more important than we realized.
When I read the most recent results of the Future Forum Pulse survey published this month (a survey of 10,000+ knowledge workers), I found data suggesting that two factors hold the key to attracting and retaining the right talent: work-life balance, and work-related stress.
The study also delivered both good news and bad news for employers that are struggling to hire and retain talent.
Work-Life Balance and Stress Since 2020
According to the survey, for American knowledge workers, "work-life balance is at an all-time low and work-related stress and anxiety is at an all-time high," since 2020. Future Forum says this finding is "an abrupt about-face" from their previous quarter's survey. It's a finding that shows increases in return-to-work requirements coinciding – very precisely – with increases in return-to-office policies.
Their data validates our observations. Consistently, candidates tell us that workplace flexibility has become a much higher, and much less negotiable priority for them. Critically, the flexibility they require isn't just about working off-site. It's also about wanting the freedom to put in the required hours at variable times each week so they can be more present and available to attend to family needs. Many of our clients have known this for a long time. They've embraced these shifts in employee demands, found ways to accommodate them, and reaped the rewards for doing so. But for employers who are still resistant, this data might be convincing:
Knowledge workers who are unhappy with their employer's lack of flexibility "both in where and when they work" are now three times more likely to say they'll "definitely" be job hunting within the year than those who are satisfied with their job flexibility.
Who is working full-time in the office?
Even more compelling is a section of the study entitled, "A troubling double-standard in WHO is working full-time in the office." While 35% of non-executives have now been compelled to return to a 5-days-in-the-office workweek, only 19% of their executive leadership are doing the same. It's a recipe for resentment.
The solution seems clear: offer candidates the flexibility they seek. But don't fall into the trap of implying that your new hire will have what they need because you'll be sure to "work out the details" as they onboard. That backfires. You'll need a carefully determined and clearly written policy that applies fairly to all and provides a reliable description of what flexibility means in your company, what's allowed, what isn't, and how changes get made over time. Indeed, the mere fact that you have a written policy that provides flexibility will help you attract talent. Companies that don't have anything in writing are increasingly likely to be ignored by candidates.
None of this is easy. All of it demands open minds, innovative thinking, and a never-ending willingness to rethink old ways of doing things. Course corrections may be frequent. But as the closing paragraph of the study publication says, employers who wait and see what others do are now at serious risk of being left behind in the race for talent.
I couldn't agree more. If you would like to learn more about how SkyWater Search Partners can help you attract and recruit the right talent for your team, please reach out. We would love to talk!
More From The SkyWater Blog