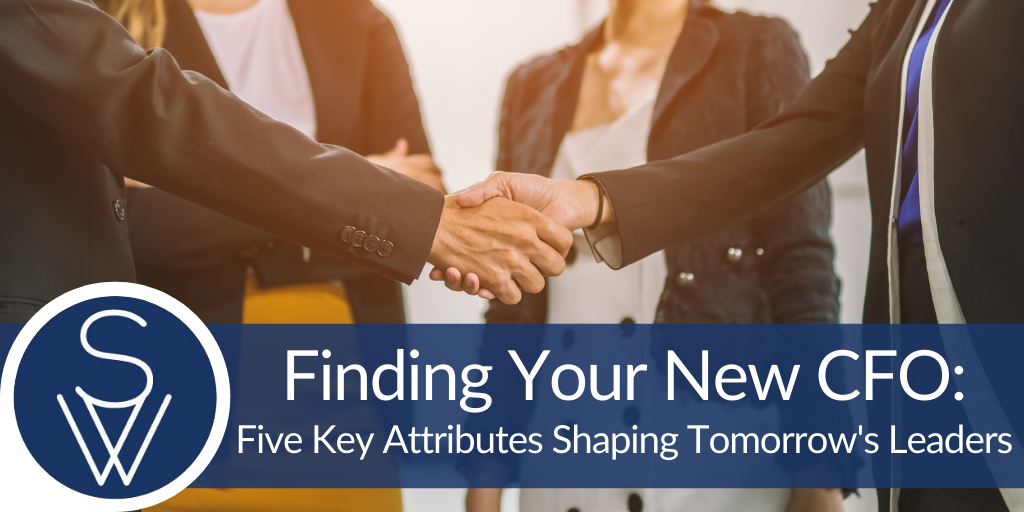 A trend is emerging among mid-market, publicly traded companies that we'd like to share: The perfect candidate profile for a Chief Financial Officer is shifting. I'll explain who we're being asked to find, why, and how this impacts you...
While the events of the past eighteen months have driven major disruptions to hiring and staffing processes throughout the business world, few leadership roles have been as impacted as that of the CFO. Today, as organizational leaders continue to sort through the lessons learned from this challenging and unprecedented time, there is growing recognition of the importance and influence of the CFO position.
There is also a growing awareness that the success profile of today's CFO has expanded and changed. Especially in the Twin Cities and Chicago metro areas, we're partnering with mid-market, private, and publically traded companies, to recruit CFO candidates who possess these five critical qualifications:
1.) Broad, varied experience
It's become apparent, in both publicly traded and privately held companies, that CEOs are becoming less interested in hiring a CFO who has come up purely through the controllership path. Instead, there is a growing appreciation and need for candidates who have branched out into other areas of business. We are seeing a strong desire for operational and strategic-minded business professionals who have expanded out of the technical realm. This diversity of work experience enables the candidate to bring multiple perspectives to the CFO function.
2.) A strategic business partner mindset
Today, the conversation about the ideal candidate includes terms and phrases like "strategic advisor to the CEO," "visionary," "consumer-oriented," and sometimes, "capable of restructuring the finance function." In other words, the set of core competencies we're looking for these pivotal leaders has been expanded and elevated beyond the tighter, more traditional view of a highly competent chief financial officer.
3.) Digital literacy
Yes, the CFO must be fluent in all of the commonly used financial reporting technologies. But that's just table stakes. The candidates we're seeking today must be fully comfortable operating within the digital landscape including those used among industry leaders but also key stakeholders within the marketplace from consumers and clients to influencers and, of course, employees. Because technology is constantly changing, it is critical to recognize that screening for this capability is less about being able to point to a list of apps and programs that a candidate has mastered and more about ensuring that this candidate is someone who is endlessly curious and eager to embrace new tools as they emerge.
4.) The ability to connect with people and rally the troops
The events of this past year have reawakened us all to the importance of what has been called "soft" skills. These days, they are more accurately described as the essential human qualities of empathy, listening with openness and compassion, the ability to learn from new information, reflect on and admit mistakes with transparency, and the commitment to base all actions in the values and ethics of the team. Compounding that challenge is yet one more critical skill: the ability to truly connect with and lead teams who may be geographically far-flung and rarely gathered in person. Because these are qualities that cannot be quantified by simply reviewing a resume, recruiting for them is more challenging.
5.) The staple skills are still mandatory
After all of that, it's important to remember that none of the above competencies can replace the skills a solid CFO must possess. While the list of must-haves is growing, very few things have been moved off the old checklist. In other words, strong, proven financial competency is mandatory and the specific demands of publicly traded companies remain firmly in place. A publicly-traded company cannot hire a CFO without public company experience.
A final word of caution to employers in the Minneapolis and Chicago metro areas: we are seeing our top candidates move through the hiring process at unprecedented speed. Often, CEOs who delay interviews or offers – even by a few days – are discovering that their first choice has already accepted an offer from someone else. Beyond the information I've shared here, my very best advice is simple: move swiftly and decisively through each step of the process, from the moment you get the resume.
If you would like to know more about how SkyWater Search Partners can help you recruit the right CFO for your organization, please reach out. We would love to talk!
More From The SkyWater Blog