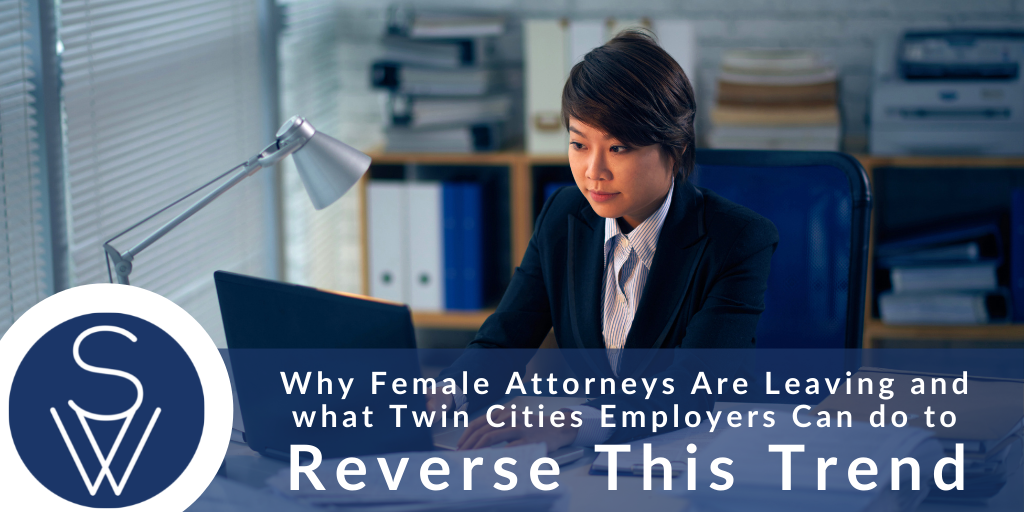 Working from home has been a wildly varied experience for Twin Cities attorneys since the onset of COVID. For some, it's been a time of newfound efficiencies and a welcome break from daily commutes. But for others, it has been an exhausting moment of truth. Not surprisingly, these very different pandemic experiences can be neatly organized along gender lines.
For many female attorneys, any previous semblance of a boundary between "work-life" and "home-life" got blurred beyond recognition by the pandemic. Balancing mounting workloads and client demands with unreliable child and elder care, along with the compounding effects of COVID-related uncertainties on family needs and emotions, has been, to state the painfully obvious: difficult. Trying to do it all on a shaky foundation of sleep deprivation and daily new worries about what the future holds has become, for many female attorneys, unhealthy, unrealistic, and unsustainable.
Over the past several months, a growing number of female attorneys have been taking a step back to evaluate how their jobs fit within – or work against – their own personal values and priorities. Many are seriously considering leaving their current positions. Many others are entertaining the idea of leaving their law careers entirely.
To be clear, I'm not basing this observation solely on my own experiences and conversations with friends in the industry. In fact, countless recent studies and surveys reveal that female attorneys have been disproportionately burdened, stretched, and stressed by the juggling act between work, family, community, and self-care.
According to "Stress, Drink, Leave," the COVID-era study by Dr. Justin Anker of the University of Minnesota Medical School and Patrick Krill of Krill Strategies LLC, nearly 30% of women lawyers reported high levels of work-family conflict, compared to just over 21% of men. In addition, 25% of female layers are considering leaving the legal profession altogether due to mental health issues, burnout, and stress, compared with 17% of male respondents.
But the truth is, these issues aren't new. They've been simmering for years. COVID just brought them to a boil, prompting awareness and growing concern among Twin Cities legal employers. The risks are profound. If female attorneys walk away en masse, their exodus will disrupt more than their own careers. It will create talent, revenue, and reputational craters throughout the industry. Or, as one respondent to a recent survey by the Chicago Bar Association described it, "Women are going to leave the profession, and it's going to take years to get back to where we were."
Today, as employers seek to get ahead of this trend, there is growing awareness that it's time to revisit some long-standing beliefs and unwritten rules. Here are some promising efforts we're seeing.
Rethinking the Meaning (and Power) of "Flexible Hours"
In a recent Reuters article by Karen Sloan, former ABA President Hilarie Bass pointed to a common misunderstanding about flexible and reduced hours. These policies, alone, aren't the powerful retention tools once imagined. Why? Because they know that, for a majority of their male peers, the decision to reduce hours is a decision to step off partner track and onto "Mommy track" (aka the long-term path to lost career opportunities and income). In the article, Bass references a 2019 ABA study confirming as much. "In that study, 67% of respondents said they immediately perceived that their firms viewed them as less committed to their careers upon having children – a bias few men face." Until "the men get on board," she cautions.
Re-defining the Inclusive Culture
It would be easy enough to view COVID as a temporary impediment to working a 60+ hour week. Through that lens, the recent news of vaccine availability for younger children would suggest that soon, things can start "getting back to normal." But more employers now recognize that the past twenty months have been a period of reckoning and clarity for working mothers. They're unwilling to go back to the old normal because it doesn't work for them. As a result, they're actively seeking work environments where the rules – both written and unwritten – reflect new respect for family, work-life balance, and personal self-care. They're seeking employers whose entire cultures reflect that, from redesigned, more expansive health care benefits and paid time off to redesigned partner tracks that do not penalize associates for honoring family responsibilities.
Recruit with the Right Partner and the Right Messaging
As Twin Cities firms and legal departments grapple with these paradigm shifts of a post-pandemic employment market, they recognize that to recruit and retain top female talent, they need to reach candidates with messaging that resonates. If you want to know more about how SkyWater Search Partners can help you find, attract, and hire these candidates, please reach out to me by clicking the "request talent" button below. I would love to talk with you!
More From The SkyWater Blog